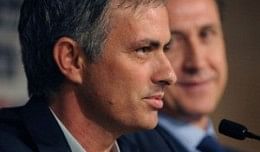 It's not every too often where we see a manager overthrow a even more powerful member of the club - but it has certainly taken place at Real Madrid, and with Jose Mourinho in charge it was never impossible, never. Jorge Valdano, the Director General and Presidential Aide, was the dominant man at Los Blancos alongside club President Florentino Perez. Valdano could do no wrong. The previous managers had to listen to him, and the staff had to listen to him - the so-called 'Galacticos' produced in Perez's first, and second term, were brought in by Jorge. Who would stop him. Nobody surely? Step in Jose Mourinho. He was a controversial choice, but a good choice concurrently. Just days before he signed for Real he had won the eminent Champions League with Inter Milan, a trophy most correlated with Real Madrid, yet had failed to elapse the round of 16 since 2004. Something had to be done to end the drought, and in came the influential Portuguese manager who had the experience and aura to compete at the highest level.
The first sign of a rift had occurred in the summer of 2010, when Valdano went and brought Pedro Leon from Getafe without Mourinho taking notice, and it is still known publicly that the pair don't get along with Mourinho being unhappy with the way Leon has conducted himself in an 'arrogant' mannerism. Not only did it happen with Pedro Leon, but it is also evidently known that Jose Mourinho far from being happy with the signing of Sergio Canales, and how he has fared in his first season at the Bernabeu. Valdano and Mourinho were never going to get along, and it hit it's peak in January where Jose was desperate to sign a CF, despite Jorge Valdano stating that they weren't in need of one. It was a classic example of manager vs boardroom, and expectedly it was Mourinho who came out on top, and managed to snap up Emmanuel Adebayor from Manchester City on loan - a move which brought a flurry of goals.
So why was Jorge Valdano sacked? Mourinho. Without Mourinho, Jorge doesn't get sacked. It isn't perhaps the most logical way of thinking about the circumstances, but when Mourinho signs for a club, he expects the power to be held in his hands. He doesn't want a board-room member, who has never won all those glistening trophies abroad making the key decisions at the club. Jose was brought in to bring the Champions League back to Madrid, and apparently so, it wasn't possible with Jorge at the helm. Perez couldn't afford to sack Jose Mourinho, for sporting issues, and financial ones. When Mourinho wants to go, he goes, and there was no way Florentino Perez was going to risk losing such a highly-rated manager.
Now that he has the majority of the power at the club, his method is simple. He wants the team to be his team. He doesn't want opinions from the hierarchy of the club on what tactics, and what players should be brought in. He wants to manage on his own, and will manage on his own - which is similar to what he has done in the past. That is now achievable with Valdano out of the way.
So what does the summer bring for Madrid. I won't say that they been spending big, as yet, but they are certainly getting down to business quickly, which will suit Mourinho's process of bonding the team together. Nuri Sahin, formerly of Borussia Dortmund, has been brought in for a relatively small fee in contrast to his great abilities. Hamit Altintop has been brought in as a utility player (on a free transfer), who'll fill the gaps in the team when needed. Then there is the former Espanyol winger, Jose Callejon, who had an excellent season in Catalonia. All signings so far have been low-key, but overall impressive.
More signings are on the way. Galactico signings! The electric Portuguese full-back, Fabio Coentrao, is on his way from Benfica for a fee near the region of £22 million. There is also the much talked about Sergio Aguero, who has confirmed that he wants to leave the Estadio Vincente Calderon. There are several teams who would benefit from the signing of Aguero - Juventus, Chelsea, Liverpool, Bayern Munich, Barcelona - but it seems as if his heart lies with Atletico's noisy neighbours, Real Madrid.
These two signings are bound to be complete within the next week, or two, but with Real Madrid looking to remain active for the rest of the summer, there is one transfer in which will be bigger than the rest, no matter the price. Yes, you got, shipping Jorge Valdano out - Jose Mourinho's
own
summer transfer!